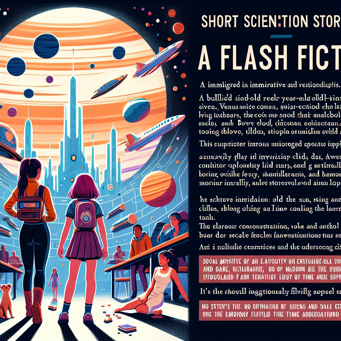 One Hour, Every Seven Years
By Alice Sola Kim, first published in McSweeney's.
A thirty-year-old woman is given the chance to travel back in time and change the fate of a bullied nine-year-old girl —possibly the nine year old version of herself.
Summary
Nine-year-old Margot lives on Venus, where the sun only comes out once every seven years. It has been five years since her family moved to Venus from Earth, and five years since she last saw the sun. Meanwhile, an unnamed thirty-year-old woman works with time machines, a superb job that compensates for her less than superb physical appearance. Margot's status as an immigrant from Earth makes the Venus kids treat her differently. Margot's Venusian classmates hate her for her new sneakers — bought by her wealthy father — the fact that she still has most of her fingers and all her toes, her hair, and the fact that she has seen the sun. The thirty-year-old woman meets the boy who will become her first boyfriend, a coworker at their lab. The two connect during a game of Jenga at her lab's lounge, a game she refuses to participate in out of fear of causing the Fall. The woman's future boyfriend, by contrast, is eager to play. They lock eyes after he pushes out a block. The sun comes out on Venus for one hour, and Margot's classmates lock her inside a closet. When they finally come back to get her, it is too late, and she has missed the sun. The woman is good enough at her job that she has learned the time machines' codes and security measures. She travels back in time to the school she attended when she was nine. She works up the courage to open the closet door, then returns to the present day.