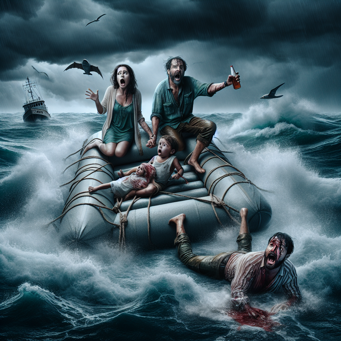 By Alex Segura, first published in Both Sides.
A drunkard with a habit of lying and the hope of an American dream tries to get his family out of Cuba across dangerous waters.
Summary
Joaquin seeks out Rigoberto to ask about the illegal ferry service from Cuba to America that he runs. They discuss the danger of shark attacks and of Cuban and American officials. He lies to Rigoberto and says that only he and his wife will be traveling. On the day that they board the boat, Joaquin's toddler son is also with them. However, they must travel anyway to avoid suspicion. They get into the water, and soon after the boat springs a leak. Rigoberto stabs Joaquin, perhaps out of anger, or perhaps to lessen the weight on the boat. Soon after, sharks come to devour the rest of the passengers. An ensign and a lieutenant find the wreck. The ensign seems to say that it happens all the time, but the lieutenant insists that the incident get called in. The lieutenant views the wreck as something important, as symbolizing the hope that they had despite their grim chance of survival.