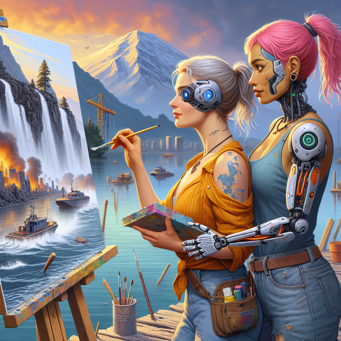 Before the World Crumbles Away
By A.T. Greenblatt, first published in Uncanny Magazine.
In an apocalyptic future shaken by earthquakes, an optimistic painter and a pragmatic, pink-haired engineer find love on a crumbling lakeside pier in between the trembles.
Summary
The world is ending, but the idealistic Marina, a painter by profession, erases all signs of apocalypse from her lakeside portraits. When Elodie, a techie realist with piercings and an android tattoo, sees the painter leave out the cracks in the ground and the marks of destruction from her paintings, she feels anger at Marina's "pretty lies." However, she does not confront her. Moments later, a violent earthquake seizes the pier. Elodie helps Marina gather her paint supplies, which are dispersed by the tremor. She notices Marina's bionic eyes, which, as an engineer, she finds beautiful. Marina, as a formerly blind person who still struggles to remember faces, appreciates Elodie's distinct style and ability to stand out in a crowd. The two flirt and exchange phone numbers.  They embark on a series of dates that sees them get along as perfect complements, Marina's boldness and optimism posing a fitting contrast to Elodie's humility and practicality. However, seeking to maintain this equilibrium, they don't tell each other everything. Marina conceals the fact that her brother insisted on paying for her eye surgery when he didn't have the means and is now thousands of dollars in debt. Elodie hides her disappointment in the death and desolation that defines their world. Marina and Elodie's relationship reaches a breaking point when Marina discloses her secret. Elodie is furious at being lied to but ultimately regrets her explosive reaction, offering to pay off Marina's debts. Marina only agrees to take money from Elodie in return for painting a portrait of her. Marina paints a portrait of Elodie on the pier, a scene symbolic of their reconciliation.  With Elodie's help, Marina is able to pay off her debts, but before she can share the good news with her brother, she discovers that he has killed himself by overdosing on sleeping pills. Marina and Elodie find solace in each other one final time, on a walk along the lake, before another earthquake hits and the ground beneath them crumbles.